Building Exterior Painting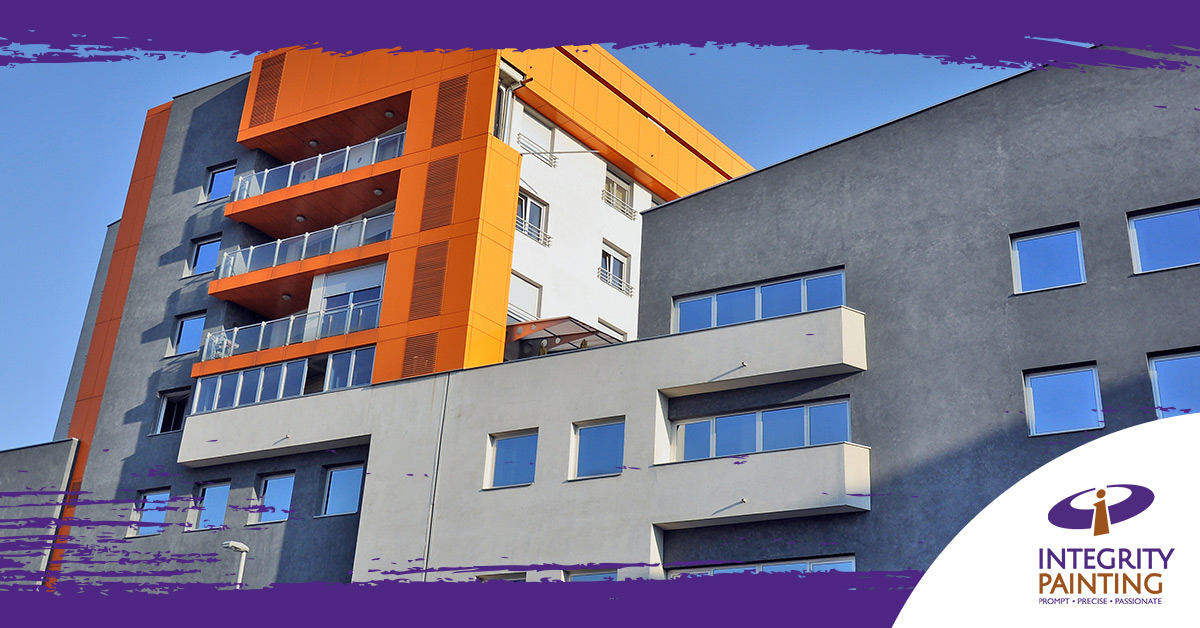 Painting your building exterior can breathe new life into your business. A fresh coat of paint shows that your business is thriving, and that can have an impact on both your clientele as well as your employees.
If you have a building that's currently coated in outdated, faded paint, we're here to convince you that it's time to upgrade. Let's talk about the best colour for your next coat, as well as reasons why you should paint your structure's facade right away…
The Best Colour for Your Business
Deciding on the right colour for your building can be intimidating. After all, we'll likely be applying a coat of paint over thousands of square feet — you want to be sure to pick the right colour and pattern the first time. So which colour is best for your business? We think it's wise to consider the look and character of your building, as well as the image that you'd like to project. If, for instance, you operate a company that sells eco-friendly products, you might want to opt for a building with green accents. Or, if you create food products, you might opt for a clean white paint, to reflect the clean environment inside. Regardless of the paint colour you end up choosing, there's only one crew to call to apply the paint: Integrity Painting.
When Is It Time for a Fresh Coat?
If you have a building that hasn't seen a fresh coat of paint since the 80s, it's time to upgrade. You may have paint that is faded, paint that's a bad colour, or paint that's actually falling off the side of your building. If so, we have the solution.
In addition, you may simply want to update your building with a new look. Often, folks opt to have their building painted if they're striving to make their brand more visual. Other times, people give us a call if they just want to make their building look younger and more inviting. Again, regardless of your reason for a fresh coat of paint, we can help.
Integrity Painting Is Your Local Painting Company
Integrity Painting is Winnipeg's trusted source for painting services due to our customer satisfaction. With each exterior commercial painting job, we strive to meet your demands and exceed your desires. That's why we've earned an A+ rating with the Better Business Bureau. In addition, we back all of our projects with a guarantee —you'll get the most thorough painting job you have ever seen or it's free. Ready to try out Integrity Painting for yourself? Get started with a free estimate for your paint job. We'll do our utmost to make the most of your commercial building.
PARTNER WITH INTEGRITY PAINTING
If you're looking for a painting contractor company for your new construction project, trust Winnipeg's professional painters at Integrity. We'll work with you to understand your timeline, your budget, and the vision for the project. Call us to learn more about our services and to begin a partnership with Integrity Painting.
POSTS FROM OUR PAINTER'S BLOG
For the average person, the words hue, tint, tone, and shade are generally used interchangeably. And this doesn't usually cause any problems on an average day, but when you're selecting paint colours for rooms inside your home, your exterior house colour, or your...
read more