Winnipeg's Interior, Exterior, Residential, and Commercial Painting Experts
Is your company looking for interior commercial painters in Winnipeg you can trust with your business? Just like the inside of a home, the interior of a business should be warm, inviting, and welcoming. That professional look ensures that clients feel comfortable and impressed. The interior of your business and its look has just as much influence on your reputation as your customer care does. Give your business the fresh and pristine look it deserves with Integrity Painting's interior commercial painting services.
Our team of Winnipeg painters are passionate about giving commercial spaces a touched-up, professional look. During our 25 years in business, we have painted the inside of offices, restaurants, banks, shopping malls, retail stores, daycares, and more, giving each a unique touch. Making your commercial space align with your brand is important, and we work to ensure our paint job does exactly that. Because you want to get back to business as quickly as you can, we complete our painting jobs as soon as we can, ensuring that you to have access to every corner of your business as soon as possible. Our team is proud to be the preferred local Winnipeg painting company for commercial businesses. Check out one of our recent client testimonials below, and call us today for a free estimate. We promise a job well-done!
If it's time to update the look of your commercial space, there's only one crew to call — Integrity Painting. Take a look at one of our testimonial videos, learn more about what we can do for your space, read about the benefits of hiring our professional crew, and find answers to our most common interior commercial painting questions below.
Painting from Floor to Ceiling
If you're curious what we can paint, it's probably better to ask what we can't paint. Here at Integrity Painting, we do it all. We paint offices, warehouses, and other commercial spaces, and we'll paint your building from floor to ceiling. We also provide trim painting and detail painting. Plus, we can install wallpaper or remove the current wallpaper that you have in your building. We also paint and finish cabinets, and we can add texture to your walls before painting. Feel free to learn more about our additional interior services, and choose Integrity for your next painting project.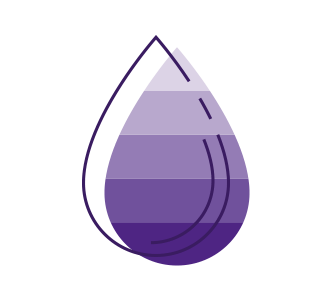 THE BENEFITS OF OUR INTERIOR COMMERCIAL PAINTERS
Painting your commercial space may not be the first thing on your mind when you're considering a renovation, but it's always the finishing touch, and it's the first thing that employees and other occupants will notice as they pass through your doors. If you're on the fence about painting your space, we're here to convince you that it's not just a good idea for the aesthetic improvements it can provide, a fresh coat of paint from our interior commercial painters in Winnipeg provides a number of benefits for business operators and commercial space owners.
Rebrand
If you're rebranding your company, or if your renting out a commercial space to a new business, then it's time to repaint the walls. New paint can impress guests and clientele who are visiting your business, while old paint can be off putting, and it can affect the morale of your employees. In this way, repainting your space could mean more profit in the long run, and giving your space a facelift may improve the image of your brand.
Attract Tenants
If you own a commercial space, but you're having difficulty attracting tenants and business owners to rent out your property, its aesthetic may be to blame. Take a good look at the interior of your space. Are the walls discolored and smudged? Is the paint outdated? Do you have old wallpaper that was installed sometime in the 70s? Painting your space will give it a completely new feel, and that can be enough to attract tenants who have a vision of building a business on your commercial lot.
Improve the Work Environment
Do you have employees that spend their work week in the office? Are they sick of the tan walls that haven't seen a paintbrush in decades? If you have an environment that is lackluster, it could actually be harming morale for your employees. Fortunately, the fix is easy — giving your space a new look with fresh paint can make the entire workspace feel new. Opt for a color that brightens your workspace, instead of those oppressive, old, tan-colored walls.
Bundle Our Services
If you're counting on Integrity Painting for your upcoming interior painting job, you'll love that we also provide a number of services to compliment our traditional painting services. First of all, you can have us paint both the interior and exterior of your building if you'd like (feel free to learn more about our exterior painting services). We also provide a variety of repair and specialty painting services, including stucco painting, wallpaper installation, and a variety of additional interior services. Since we provide all of those services, you can rejuvenate the look of your entire property in one fell swoop. Plus, we provide affordable rates on every job, no matter the size!
Added Building Value
If you're planning on selling your commercial space at any point in the near future, then you should know that an interior paint job can add value to your building. Not only that, but painting your building will attract more potential buyers, and it may be the deciding factor for the next buyer.
A Professional Finish
Often, business owners opt to paint their own buildings to save a quick buck. While that may sound like a good idea, we suggest that you think about the repercussions of starting a project like this yourself. When you hire a professional painting crew, you can rest assured that we'll get the job done properly. That means straight, clean lines, and a professional look for your business. If you opt to "do it yourself," you could end up with wonky lines, paint spills, and stray drops of paint around your property. Instead, count on the pros here at Integrity Painting to provide a clean, thorough paint job.
You can also save yourself a headache by counting on our crew. It's likely that your commercial space is several thousands of square feet, all surrounded by walls and capped off by ceilings that could use a new layer of paint. Some projects could take weeks for you to complete. Fortunately, if you hire our crew, we can cut that completion time to a number of days — depending on the size of your building. We make quick work of any commercial space, which means that you can run business as usual, faster than usual.
When you hire Integrity Painting, you're hiring a crew of commercial painters in Winnipeg backed by years of experience, and a company that has all the right tools to do the job the right way. We've been working in Winnipeg for over a quarter century, and we have tackled numerous commercial paint jobs throughout the community during that time. That experience means better efficiency, and a better final product. Combine that experience with our expansive set of tools, and you get a professional painting touch that you won't find anywhere else.
In short, you'll save time, you can save money, and you'll have a better looking commercial once we're done. Plus, you don't have to worry about cleanup at all. We clean up after our jobs, leaving your space looking its best.
INTERIOR COMMERCIAL PAINTING FAQ
Why choose Integrity Painting?
If you're shopping around for the best painters here in Winnipeg, we're certain you'll be satisfied with Integrity Painting. We're proud to have provided our neighbors throughout the area with premier painting services for over 25 years, and we're ecstatic to be a part of the Winnipeg community. As our reviews and testimonials show, we put customer service first. We also back our services with a guarantee. If you aren't satisfied with our final product, we'll make it right. In short, we're simply the best choice for folks here in Winnipeg — after all, that's why Integrity is in our name.
Do you back your commercial painting services with a guarantee?
Yes! It's our goal to ensure that every single one of our clients is satisfied with their project when we're finished. Our guarantee is as follows: You get the most thorough painting job you have ever seen or we'll repaint for free — guaranteed! If you have any issue with our final product, we'll do our utmost to ensure that it's up to your standards.
Is there anything you don't paint?
Nope — we paint it all. If you have a commercial property with railings that need painting, fences that need staining, or any other detail that could use some brush strokes, we can provide. We even provide various repair services for surfaces around your building, and we can install or remove wallpaper. Feel free to learn more about our additional services.
How can I tell when Integrity painters are on my property?
All Integrity painters wear uniforms while on the job site — that's just our policy. We want our clients to know when our painting professionals are on site, so that you don't have to worry about the security of your building. Once again, that's just one more reason why we call ourselves Integrity Painting.
Do you provide free estimates?
We do! We want our clients to know how much they're spending before they commit to a paint job. We also provide affordable, competitive rates on our projects. If you're curious about how much your upcoming interior commercial painting job will cost, don't hesitate to reach out to us to get a free estimate.
COUNT ON INTEGRITY PAINTING
If you're looking for the best commercial painters here in Winnipeg, we're here to convince you that our number is the only number that you'll have to call. We have over a quarter of a century of experience serving the community throughout Winnipeg.
We provide all-in-one services, including interior painting services, exterior painting services, and a variety of services that compliment our paint jobs.
We're recognized as the best painters in the area, as our testimonials reveal, and we're also members of the Better Business Bureau, among other business- and ethics-oriented groups. Feel free to read our testimonials for yourself. Here's one of our favorites:
"The Integrity team provided prompt service and helpful advice about products & design. The workmanship was professional! The interior crew were organized, kept the work areas and materials tidy. There were no drips. Both interior and exterior teams showed teamwork, friendliness and helped us with colour/design. The team leaders were excellent and cultivated an atmosphere of camaraderie and professional fun. Our home looks beautiful, and we are thrilled." – Russ and Carol
If you're ready to discover the Integrity Painting difference for yourself, get in touch with us. We can offer you a free estimate for your upcoming project, and we'll do our best to ensure that our paint job exceeds your expectations.